HUBUNGAN PERSONAL HYGIENE (KEBERSIHAN HANDUK) DENGAN KEJADIAN SCABIES DI PONDOK PESANTREN NIZHOMUL HIKMAH DESA TAMIANG
Keywords:
Kata Kunci : Personal hygiene, scabies
Abstract
ABSTRACT
                    The places that are a favorite for Sarcoptes scabei are areas of skin folds such as the palms of the hands, feet, groin, groin, abdominal folds, armpits and vital areas. Scabies disease is caused by hygiene factors that are not properly maintained. Sleeping equipment in the form of mattresses, sheets, pillows, beds and stuffy room conditions can trigger itching. Although it is not life-threatening, scabies disease needs attention because of its high transmission rate and can interfere with comfort, especially during sleep at night and disturbances in self-concept.  This study aims to determine the relationship of personal hygiene (towel cleanliness) with the incidence of scabies at the Nizhomul Hikmah Islamic Boarding School, Tamiang Village. This research is an analytic study with a cross sectional design, with primary data, using an observation sheet. The population is 43 students in grade 2 tsanawiyah and sampling with a total sampling of 43 students in grade 2 tsanawiyah and analyzed by chi-square test. The results showed that there was a relationship between personal hygiene (towel cleanliness) and the incidence of scabies in the Nizhomul Hikmah Islamic boarding school, Tamiang Village, with a value of p=0.002<p=0.05. Can improve health services and provide information to students about personal hygiene and the environment of Islamic boarding schools to avoid scabies disease. Keywords: Personal hygiene, scabies
ABSTRAK
Tempat-tempat yang menjadi favorit bagi sarcoptes scabei adalah daerah-daerah lipatan kulit seperti telapak tangan, kaki, selangkangan, lipatan paha, lipatan perut, ketiak dan daerah vital. Penyakit scabies disebabkan faktor kebersihan yang kurang dipelihara secara baik. Alat tidur berupa kasur, sprei, bantal, tempat tidur dan kondisi kamar yang pengap, dapat memicu terjadinya gatal-gatal. Walaupun tidak sampai membahayakan jiwa, penyakit scabies perlu mendapatkan perhatian karena tingkat penularannya yang tinggi serta dapat mengganggu kenyamanan, terutama saat tidur dimalam hari dan gangguan konsep diri. Penelitian ini bertujuan untuk mengetahui hubungan personal hygiene (Kebersihan Handuk) dengan kejadian scabies di Pondok Pesantren Nizhomul Hikmah Desa Tamiang. Penelitian ini adalah penelitian yang bersifat analitik dengan desain cros sectional, dengan data primer, dengan menggunakan lembar observasi. Populasi 43 orang santri/wati kelas 2 tsanawiyah dan pengambilan sampel dengan total sampling yaitu 43 orang santri/wati kelas 2 tsanawiyah dan di analisa dengan uji chi-square.Hasil penelitian menunjukkan ada hubungan personal hygiene (kebersihan handuk) dengan kejadian skabies di pondok pesantren Nizhomul Hikmah Desa Tamiang dengan nilai p=0.002<p=0.05. Dapat meningkatkan pelayanan kesehatan dan memberikan informasi kepada siswa tentang kebersihan diri dan lingkungan pondok pesantren agar terhidar dari penyakit scabies.
Kata Kunci :  Personal hygiene, scabies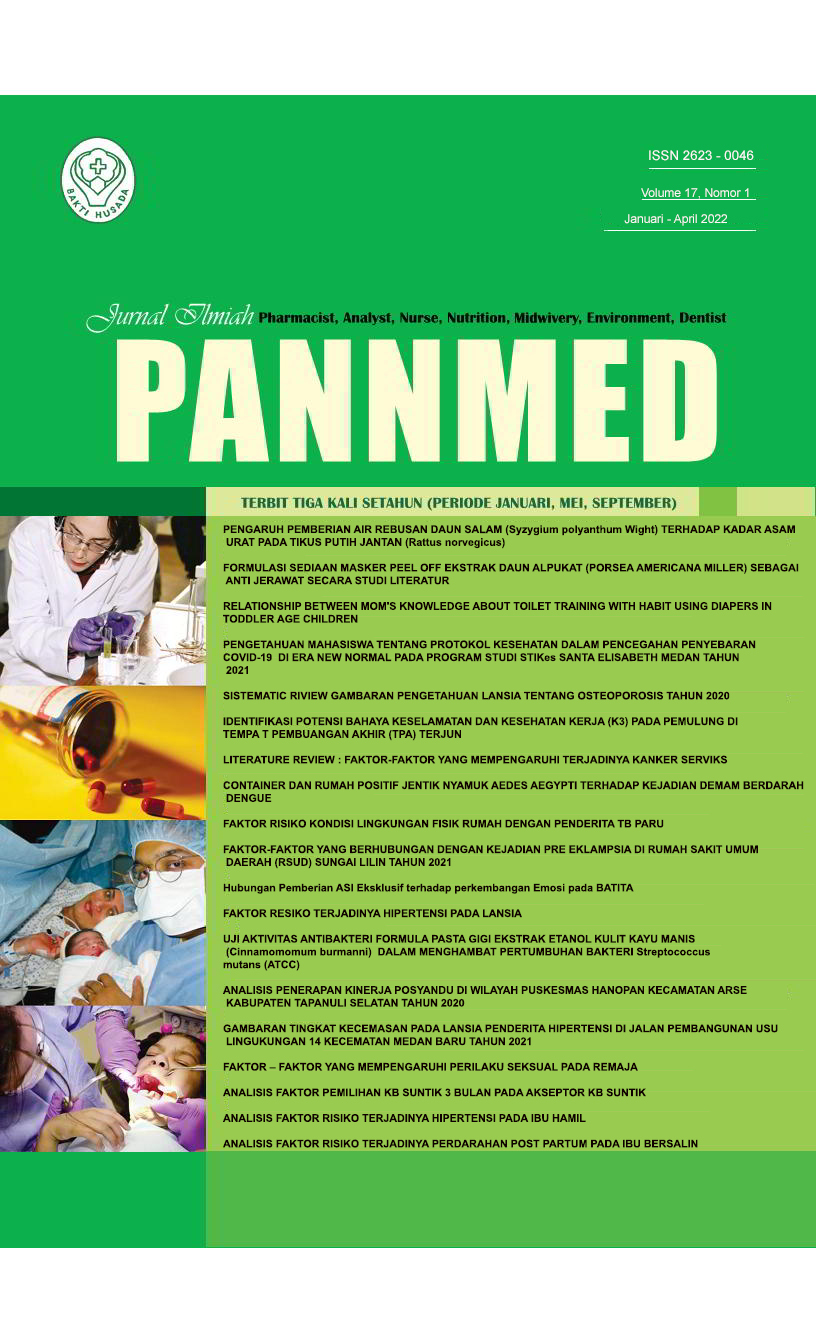 Downloads
Section
Original Research