17 RELATIONSHIP OF KNOWLEDGEOF STROKE PATIENT WITH COMPLIANCE THROUGH PHYSIOTHERAPY ON PHYSIOTHERAPY CLINIC IN DR.PIRNGADI HOSPITAL ON YEAR 2016
Keywords:
Stroke, Physiotherapy
Abstract
Stroke is a clinical syndrome due to brain blood vessel disorders, sudden onset and usually affects patients aged 45-80 years. Generally men are affected slightly more often than women. There are usually no symptoms prodrama or sudden onset of early symptoms. After a stroke a few patients have disorders such as paralysis, decreased communication skills, mental changes due to depression. Therefore, stroke patients need to undergo rehabilitation as much as possible in order to restore the function of the body. One type of care given is physiotherapy. Physiotherapy is essential to prevent stiffness and immobility. Stroke patients considers incurable disease and stroke will suffer a lifetime, while the good treatment of post-stroke disability can be minimized, thus the need to undergo physiotherapy stroke patient compliance. Post-stroke patient compliance in undergoing physiotherapy Installation Medical Rehabilitation Hospital in Sleman, known in category obedient as many as 13 people (65.5%). This research is an analytic that aims to determine the relationship of patients' knowledge about stroke with compliance with physiotherapy in the physiotherapy room Hospital RSUD Dr.Pirngadi on year 2016, with cross sectional study. Respondents in this study as many as 32 people by using accidental sampling.Results showed that the majority of 15 respondents (46.9%) are knowledgeable enough [and as many as 21 respondents (65.5%) do not comply with physiotherapy and 9 respondents (28.1 %) dutifully undergoing physiotherapy. Based on an analysis using the chi-square test showed no significant relationship between the knowledge of stroke patients with adherence to undergo physiotherapy, ie, p-value = 0.021 (p <0.05).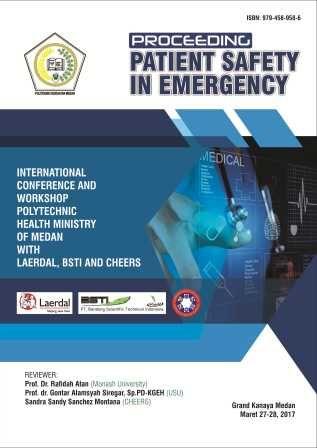 Downloads